WW1 Military Medal Pair For Sale
Nottingham Medals offer for sale an interesting World War One Military Medal with accompanying War Medal, the recipient also being entitled to the Victory Medal. William Hutchinson joined the 16th Battalion (Chatsworth Rifles) Notts and Derby Regiment in May 1915 and was sent to France in March 1916. He was rapidly promoted through the ranks to Sergeant and attached to the Machine Gun Corps in April 2016, being transferred in January 1917. He served in France until the war end, and was demobbed in 1919. His Military Medal award was gazetted in 1919 and relates to his duty with 32nd battalion, Machine Gun Corps, where he served from 22nd June 1918. William Hutchinson was born in Ilkeston and lived in Lenton, Nottingham, later moving back to Ilkeston. He married in Lenton, February 1918 while on leave in the UK. Copies of various military documents included plus original 4th Army Orders dated 28th February 1919 confirming the award, original 4th Army notification letter and original Army Form Z.21 (Demobilization Certificate) confirming entitlement to War, Victory and MM medals. Plus his 1915-18 Machine Gun Corps service certificate. An interesting MM to a senior NCO, with extensive documentation.
Medal Details
Military Medal - 73115 C.Q.M.SJT W. HUTCHINSON. 32/M.G.C.
War Medal - 26543 C SJT. W. HUTCHINSON. NOTTS. & DERBY. R
Price £850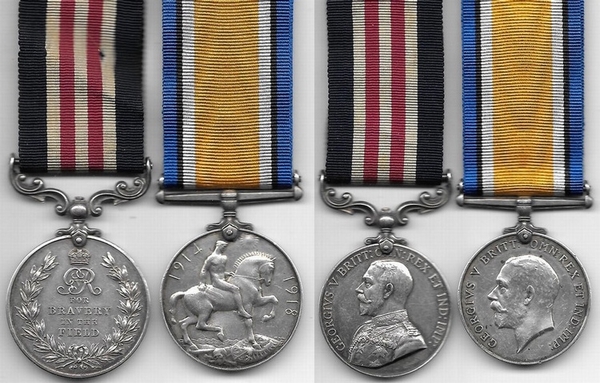 MGC Service Certificate
MGC Discharge Form Z.21
4th Army MM Notification
4th Army Orders
Payment preferred by cheque, bank transfer, P.O., or cash
(Euros, US$ or GBP).
Nottingham Medals
25 Cowpasture Lane, Sutton-in-Ashfield,
Nottinghamshire, NG17 5AF
Tel: 01623 755466
Mob: 07521 069261
e-mail:
enquiries@nottingham-medals.co.uk